Start here.
Supports optimum health
Boosts energy all day
Supports immune function
BENEFITS:
Improve your health, and your quality of life and performance will follow. Regular use of Premium Insurance Caps—Hammer's potent multivitamin and mineral complex—brings about accelerated athletic recovery, greater fatigue resistance, reduced rates of illness and infection, and a general experience of wellness.
Premium Insurance Caps is formulated with only highly absorbable nutrients, in optimal amounts, to powerfully fill in nutrient gaps that are prevalent in the modern diet. It is the ideal "start here" supplement for hard-training athletes, active people, or anyone seeking to protect their health and maximize their energy.
Application:
Comprehensive nutritional foundation to maintain peak overall health and well being through the rigors of training, competition and everyday life.
Usage Instructions:
Please read chart carefully.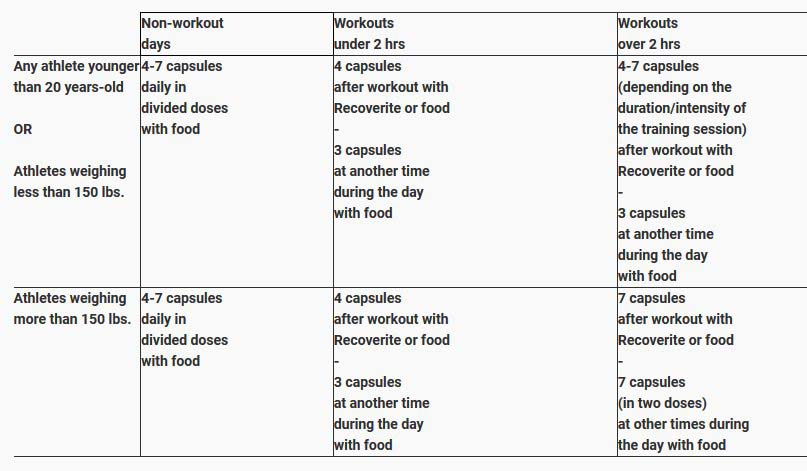 Dosing for Children:
Dr. Bill Misner suggests a dosage of one Premium Insurance Caps capsule per 22-25 lbs body weight/day. He also suggests that "This calculated dose should be divided and taken with meals for best results."
Notes:
High potency, vitamins, chelated minerals, amino acids, a broad spectrum of antioxidants, digestive enzymes and more replace a dozen supplements in one convenient formula. Compare our ingredients with all of the other supplements in your cabinet; you may find many of them to be unnecessary now.
Supplementation with this product is not necessary and not recommended prior to workouts unless at least a 3-hour window exists between consumption of the product and the beginning of the workout. We highly recommend taking Premium Insurance Caps immediately following exercise with Recoverite as the body is most receptive to what you consume at this time. The vitamins and minerals will help replenish what was depleted during the exercise and the antioxidant properties will help neutralize free radicals for reduced muscle soreness.
Premium Insurance Caps
210 Capsules Super High-Potency
Supplement Facts

Serving Size - 7 capsules



Amount Per Serving
% Daily Value*
Vitamin A (as beta-carotene)
12,500IU
250%
Vitamin B1 (thiamine)
100mg
6667%
Vitamin B2 (riboflavin)
100mg
5882%
Vitamin B3 (as niacinamide)
100mg
500%
Vitamin B6 (as pyridoxine phosphate)
100mg
5000%
Vitamin B12 (as methylcobalamin)
100mcg
1,667%
Vitamin C (as Calcium Ascorbate)
500mg
834%
Vitamin D3 (as cholecalciferol)
500IU
125%
Vitamin E (as d-alpha-tocopherol)
400IU
1333%
Folate (as 5-MTHF)
400mcg
100%
Biotin (as d-biotin)
150mcg
50%
Pantothenic Acid (as d-calcium-pantothenate)
100mg
1000%
Calcium (as AAC* and calcium ascorbate)
400mg
40%
Iodine (as kelp)
112.5mcg
75%
Magnesium (as AAC*)
200mg
50%
Zinc (as AAC*)
15mg
100%
Selenium (as AAC*)
100mcg
143%
Copper (as AAC*)
1mg
50%
Manganese (as AAC*)
7.5mg
325%
Chromium (as Chromemate™)**
200mcg
167%
Potassium (as AAC*)
50mg
1%
Boron (as AAC*)
2.5mg
†
Bioperine™
5mg
†
Pepsin
25mg
†
Bromelain
25mg
†
Papain
25mg
†
Phosphatidyl Serine
50mg
†
PABA (para-aminobenzoic acid)
100mg
†
Quercetin
350mg
†
Phosphatidyl Choline
100mg
†
Inositol
100mg
†
Betaine HCL
100mg
†
Citrus Bioflavonoids
500mg
†
Proprietary Enzyme Blend (protease, amylase, glucoamylase, lipase, cellulase, phytase, maltase, and sucrase)
25mg
†
* - AAC = Amino Acid Chelate
† Daily Value not established.
Other Ingredients: Stabilized Rice Bran, Vegetable capsule (plant cellulose, water)

These statements have not been evaluated by the Food and Drug Administration. This product is not intended to diagnose, treat, cure or prevent any disease.